THE HERMITAGE, Grwyne Valley, nr Abergavenny, Brecknockshire 2004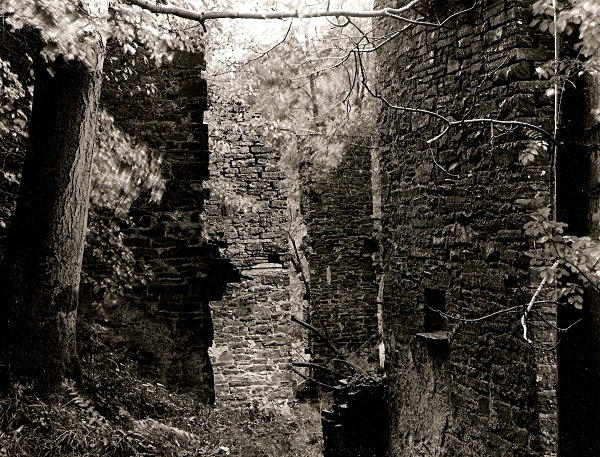 Note on THE HERMITAGE, Grwyne Valley, nr Abergavenny, Brecknockshire 2004
After a wet day spent in Hereford and whilst driving to Abergavenny I remembered the Hermitage, a small villa south of the Black Mountains, built early 19th century supposedly by John MacNamara of Llangoed, for his mistress. The former was a notable, but by no means a noble character. It was still intact in 1913 but when the Forestry Commission took it over it fell into disrepair.
I had a map and drove up the high-hedged road from Crickhowell until it turned to narrowed track and came to an gated end just before a lovely bridge. I parked the car and found the Hermitage relatively easily: very remote, the cellars caved in and fair in size and location. A small steam ran beside the house, considerably deepened by the torrential rain. I spent about an hour exploring the house and grounds, myself and equipment thoroughly soaked but made a few successful exposures. The Hermitage made an otherwise ordinary day something a little special. There isn't anything particularly special about what remains: a few high stone walls, but the house, knowing it was built for a mistress, held its secrets and contained therein its own micro-atmosphere.
The Hermitage 2009
The Hermitage 2009
| | |
| --- | --- |
| | |
Comments
By goku:
bnfbfvvfmmvbvvd
By carla murch:
a beautiful inspiring set of prints i have a poem that seems to belong to your prints it captures the micro atmosphere you mention as its about being far from the village and a love affair in times past. thanks you id love to buy a print were do you sell them....
By Les price:
I come across the house on th 24/4 it must have been a beautiful house at the time ,there is a fence around it now has it doesn't look very stable thanks for information.