SKER HOUSE, Pyle, West Glamorgan 1997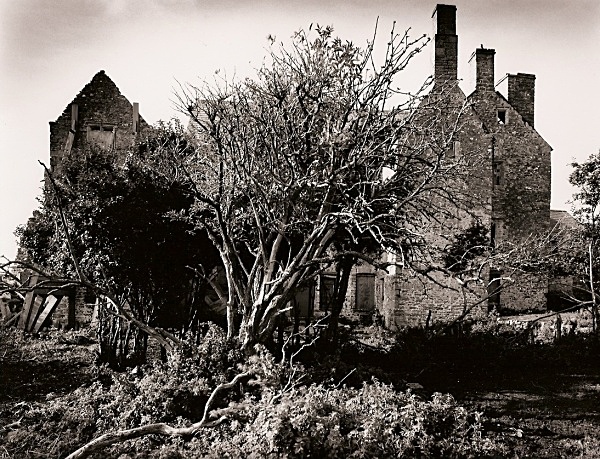 Notes on SKER HOUSE, Pyle, West Glamorgan 1997 (now restored)
Sker is a huge, imposing 16th century house, built by the Monks of Neath Abbey, standing alone, resilient and high on a deserted stretch of coastline. It has been standing empty, partially fallen and decayed for years with much talk and little action taken to save this medieval (at the core) house.
A mile long walk from the road up to its door filled my eyes and intrepid heart with glee. Though I wasn't disappointed, a successful exposure was a struggle. I do not feel I caught the essence of Sker. All the elements were present: a stunning surrounding and a magnificent, majestic house, twisted wind blown coastal trees and slow, warm evening sunlight. All this but I couldn't find the angle that satisfied me.
Regrettably I forgot to take a torch too. One window had been broken into and the others were all boarded up. Much to my loss I missed the opportunity to view the elaborate plasterwork in the large main hall (said to seat a hundred people): prehistoric bird creatures shooting arrows at dragons! It was abandoned in 1970 but recently and successfully (2000) restored and fully renovated as a family home.
The Victorian novelist R.D. Blackmore , best known for his novel Lorna Doone, spent much of his childhood at nearby Nottage Court and knew Sker well. Less well known is the fact that he also wrote a novel called The Maid of Sker.
Sker House 1997
Sker House 1997
Sker House 1997
Sker House 1997
Sker House 1997
| | |
| --- | --- |
| | |
Comments
By fb;djs:
zejkeèùçe_(
By heather saunders:
I understand that Sker House would be open to the public by appointment once a year. Is this true please?
By martin:
do you have any old pictures of the sand dunes across from the angel pub as when i was a child i was told there was the remains of the old sker town and was told the dunes cover it after there was a huge sand blizard. i was also told that the biggest dune has the bell tower from the church under it. was this just a tale or is it fact and if it is true could you get pictures of it.
By patricia walters:
Is sker house open to public.. can I get a contact phone number please