LANDSHIPPING HOUSE, Martletwy, Pembrokeshire 2010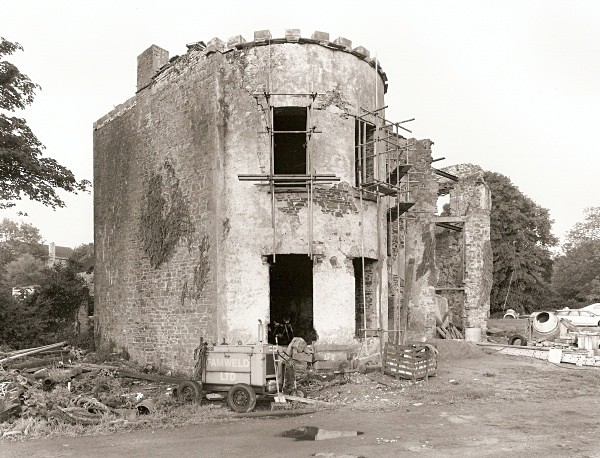 Notes on LANDSHIPPING HOUSE, Martletwy, Pembrokeshire 2010

Reached by walking along the muddy quay, Landshipping House is superbly situated over looking the start of the Cleddau Estuary, incidentally just a few miles down stream from the Systerne / Sisters House.

The house has been a shell for decades with one of the front bays slowly crumbling away. The current owners have had a long battle with the Pembrokeshire National Park Authority who are unwilling to buckle their overall ban on new builds in the National Park – surely each case should be judged overall on its merits and leniency used where appropriate – Landshipping House and its outbuildings would doubtlessly add to the character of this part of beautiful Pembrokeshire.

A short row of service quarters at the rear show evidence that these were once stables (a curved brick arch has been filled in).

A pig snored in its pen during my visit. The sky began to brighten with an intense orange luminosity as the morning hue revealed tiny spider webs across the lawns in front of the house. The birds had finished their morning chorus and had begun their daily chores. This mansion, on this morning, had an explicit air of positive assurance that soon it would regain its full height and its four walls and once again become a family home.

'Old Landshipping' was built in the 1670's but was dismantled and the stone used to build 'New Landshipping' in the late 18th century a few hundred yards down the estuary in a more prominent place where it could be overlooked by visitors to Picton Castle and Slebech Park. 'New Landshipping' was also has castellated in response to Picton.

Landshipping or has it is also known as 'Big House' (Ty Mawr) has now been restored with the left facing bay and entrance near to full restored.
| | |
| --- | --- |
| | |