BLAEN BAGLAN, Baglan, West Glamorgan 2010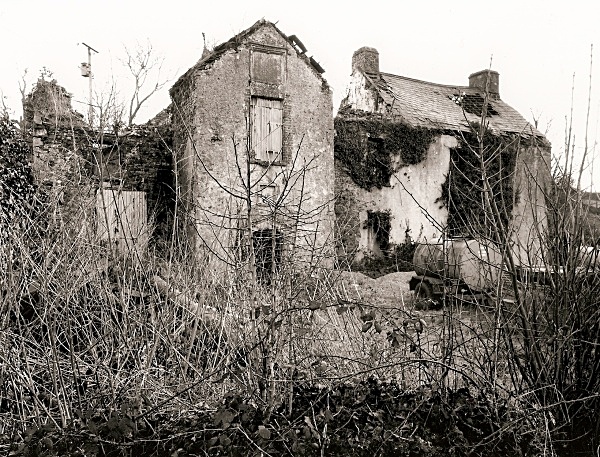 Notes on BLAEN BAGLAN, Baglan, West Glamorgan 2010

I left my flat in Brighton at 1am and drove along the empty motorways to South Wales and reached Blaen Baglan in the false dawn. The air was cold and crisp and it felt good to feel the soft ground underfoot. I wandered around the house in near darkness for half an hour, selecting viewpoints and compositions, judging which lenses to use and waiting for the dawn.

I had been here before, almost 15 years ago and knew what to expect. My expectations were not to be trusted. I had somehow imagined Blaen Baglan to be in much the same state 15 years down the line. It is, in my eyes, at the very precipice of total collapse and perhaps due to that is a far sadder sight to behold than that of other lost houses in the region. Sadder than the magnificent Neuadd Fawr which I visited after Blaen Baglan, sadder than Edwinsford which I visited a few days later. All the lower doors and windows are boarded up with metal shutters. First inspection I presumed that the house was still in some kind of agricultural storage use. I felt relieved the lower floors were still in a water tight condition but further investigation showed the entire west side of the house had collapsed and the view within was a chaotic jumble of stone and beams. Blaen Baglan felt truly lost.

I must however backtrack. My first visit to Blaen Baglan had been in 1997 and was a hurried affair. I was told the owner who lived in the bungalow next to the house did not appreciate casual sightseers. He was not there on my first visit and who knows, perhaps a private man and didn't like the idea of strangers spoiling his otherwise secluded existence. Perhaps, he himself, loved the ruined house and considered it his own private pleasure. As it happens the bungalow next to the house also appeared to be empty although the vegetable garden beside it well tended. I photographed Blaen Baglan quickly and moved on.

I was in no such hurry on this occasion. The bungalow beside it was roofless and a burnt out shell. Broken slates covered every inch of floor within and cracked loudly underfoot alerting the sheepdogs that spent their nights in the farm building close-by of my presence. Inside the bungalow the walls were covered in peeling and blistered paint, just the type of subject matter I search endlessly for whilst living in cities and towns. I did, unable to completely resist, make a few exposures of the walls of the bungalow but it was, after all, Blaen Baglan that I had come to visit, perhaps for the last time.

It had fallen into alarming disrepair and although the dirty white washed façade appeared to be remarkably intact I was disappointed to find all that lay behind. Almost all interior details are lost in the piles of rubble and wood; the wooden panelling, the rear three storey staircase all lost and barely visible at the decayed core. A very depressing site and absolutely desperate for attention.
| | |
| --- | --- |
| | |
Comments
By Angela Benger:
I was so pleased to find your updated news about Blaen Baglan, although upset to find it has deteriorated so much over the last winter. Following discovery of your site last year my uncle and I visited Blaen Baglan as our 3x/4x Gt Grandfather farmed there in the second half of the eighteenth century. It was very emotional as you can probably appreciate to have our photo taken on 'his' front door step. The building was in a very poor stste at that time, but it seems that last winter has taken its toll. The land has been put forward for housing development and there were many people (inc me!) submitting reasons why this should not go ahead but this consultation period has now closed and I await news of the next stage. I just wish I could purchase and rebuild my heritage...not likely to happen, but I feel so strongly that it has been allowed to fall into such disrepair and dereliction without anyone caring. I will stop now as I could go on for ever.. Angela
By Rosemarie Robinson:
Hi There, I was wondering if you could shed some light on who owned this old homestead? I am actually looking for the ruins of an old mansion in Baglan. I believe 1 or 2 miles from Port Talbot. The mansion I am looking for is believed to belong to the Talbot family some long lost ancestor of mine. Having never seen it myself, I have no idea what it looks like, but can you tell me if there are any other ruins in that area? Not sure if your pic is it or there are others? Thanks so much Rosemarie
By Edward Lewis:
Morman Ancestral File David Williams, born abt. 1534 of Blaen-Baglan, Glamorgan. father: William ap Jenkin mother: Elizabeth Mathew
By Glenn Dunaway:
Do you have any photos or information on No2 Farm Row Baglan?