DEAD TREE, Cefn Coch, Cwmystwyth, Ceredigion 1996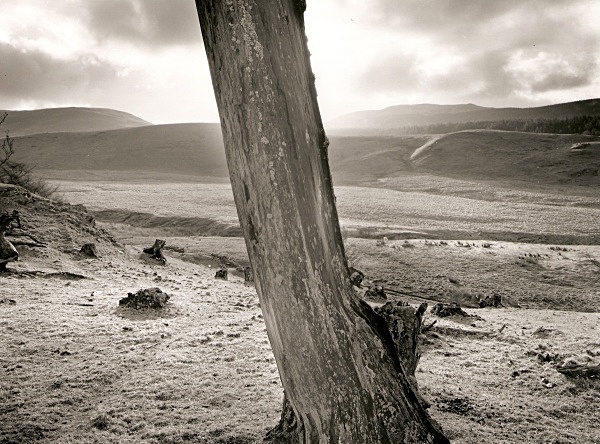 Notes on DEAD TREE, Cefn Coch, Cwmystwyth, Ceredigion 1989 - 2010

A particular pleasing composition. The dead tree at the centre is both dramatic and breaks traditional photographic compositional rules. The American photographer Edward Weston photographed a palm tree once, showing only its trunk against a blue sky. I spent a number of years photographing the same telegraph pole in a similar style. Since then, as seen here, I have approached much of my subject manner the same way, avoiding, when it made a better compositional, the photographic compositional rule of thirds.

All these images of dead trees and roots were taken after climbing up and over the cave at Hafod to Cefn Coch plateau. I remember my first visit during heavy fog. The tall trees, branchless, standing like ancient monuments, imposing in the white gloom. The subsequent visits, of which there have been many, as often as I can, returning to particular trees. Photographing, re-photographing the upturned, exposed roots. With each year passing, more of their trunks, branches and roots eaten away by the damp, or wind, or frost or sheep rubbing themselves to rid themselves of an itch.

Once at the tip of the plateau before you stand the Cambrian Mountains and their marshy and heavily tussled grasslands, leading to Teifi Pools and Cwm Elan. Seemingly, nothing much to see up there, except cairns and secret lakes, peat bogs and sheep enclosures. But the views and the slowness of foot benefits the soul and many hours of contemplation can do no one any harm. Often I sing while I go. The sheep do not mind and if the wind is behind you, and the ground beneath dry, miles can pass by without notice.


COED MARW. Cefn Coch. Cwmvstwvth. Ceredigion 1989 - 2009
Tynnwyd pob un o'r deiweddau hyn o goed a gwreiddiau marw ar ol i mi ddringo dros yr ogof yn yr Hafod i Gefn Coch. Torrwyd y coed ar y llechwedd hon, a oedd ar un adeg yn rhan o ystad yr Hafod, a llawer o goed yr Hafod yn ystod y ddau ryfel byd. Wrth wneud hyn, diflannodd llawer iawn o'r 3 miliwn o goed pren caled a blannwyd yn y bedwaredd ganrif ar bymtheg.

Cofiaffy ymweliad cyntaf a ddigwyddodd yn ystod niwl trwchus. Safai'r coed tal heb ganghennau fel henebion hynafol, yn fawreddog yn yr oerlwm. Rwyfwedi ymweld a'r ardal hon ar sawl achlysur ac rwyf wastad yn dychwelyd at goed penodol a'm hoff goed. Rwyfwedi tynnu Iluniau o'r gwreiddiau agored hyn dro ar ol tro. Wrth i'r blynyddoedd fynd heibio, mae'r lleithder a'r rhew wedi golygu bod y boncyffion, y canghennau a'r gwreiddiau wedi dirywio. Nid yw'r ffaith bod defaid yn rhwbio yn eu herbyn yn helpu dim.