BRONWYDD, Llangynllo, Ceredigion 2009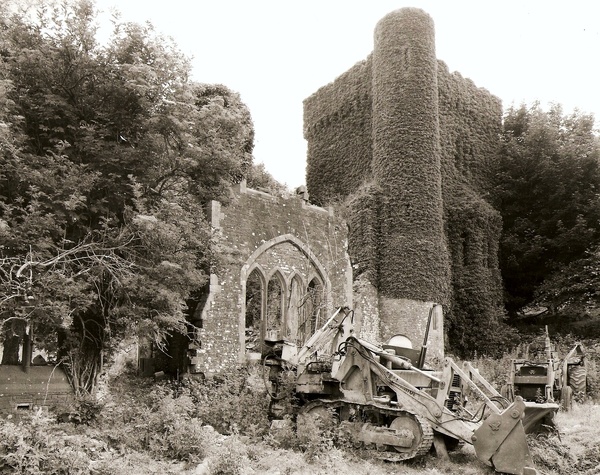 Notes on BRONWYDD, Llangynllo, Ceredigion 2009
I had heard that Bronwydd had all but gone, demolished by the owner/farmer since my last visit in 1996. I was surprised to find that very little had changed. Some of the ornate arches with Latin inscriptions had fallen but considering it had been 13 years I believe Bronwydd still has much to offer the casual visitor.
A border collie came bounding over and accompanied me during my visit demanding I throw stones. Another dog barked constantly somewhere in the farm yard above. As I approached the house the cows and calves fled and the sheep huddled in corners of fields.
The most prominent part of Bronwydd is the large high tower, completely ivy covered and resilient. The remnants of fireplaces, doorways, staircases and plastered corners can be seen when looking up from the inside. Foolishly I forgot also to see if the spiral staircase to the narrow rounded tower that projects up beside the large ivy covered tower was still accessible. I'm not sure I would have had the courage to walk up it anyway.
A few decorative blocks of plasterwork lay here and there in amongst the rubble and stone. Although I only spent half an hour at Bronwydd I spent a further two hours attempting to dig my car of the mud I had decided to park it in!
Bronwydd 1996
Bronwydd 2009
Bronwydd 2009
Bronwydd 2009
Bronwydd 1996
Bronwydd 2009
Bronwydd 2009
Bronwydd 2009
Bronwydd 2009
BRONWYDD. Llanqynllo. Ceredigion 1997 & 2009
Safai ty ar safle Bronwydd yn y bedwaredd ganrif ar ddeg ac fe gafodd ei ailadeiladu yn y 1850au - er nad oes dim yma heddiw ond twmpath o rwbel. Mae'r cerfiadau cerrig, y gwydr lliw a'r murluniau wedi hen ddiflannu heblaw am ychydig o arwyddeiriau Lladin uwchben y drysau o garreg Caerfaddon.. Dychwelais i Fronwydd fis Gorffennaf 2009. Prin yr oedd wedi newid. Mae eiddew'n gorchuddio'r twr ac mae'r rhan fwyaf o'r arysgrifau Lladin wedi dirywio a diflannu am byth.
| | |
| --- | --- |
| | |