TALYSARN HALL or PLAS DOROTHEA, Nantlle Valley, Caernarvonshire 2009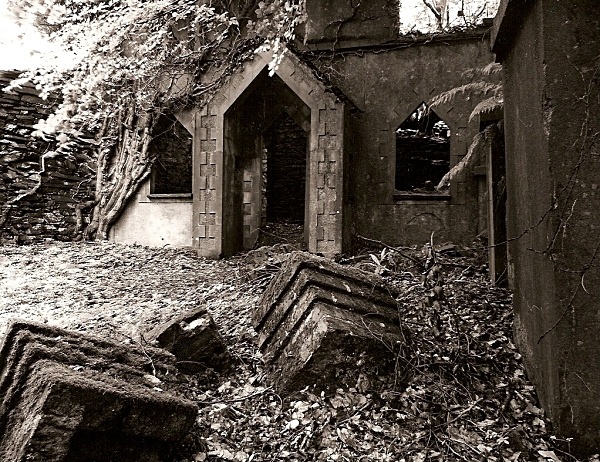 Notes on TALYSARN HALL or PLAS DOROTHEA, Nantlle Valley, Caernarvonshire 2009
Only a half hour drive from Gwynfryn House to the mining community of Talysarn and the Nantlle Valley. It did not take long to find the ruined villa of Talysarn Hall. I first came across the vast array of outbuildings. I presumed that these were indeed the house converted into showers for the working miners but once past these and walked through the castellated arch I soon became aware of what a jewel this Victorian hall once was.
The house itself is somewhat plain with three stories and a basement. The centre front bay slightly protrudes and also has a small porch. It is roofless and with no obvious discernable features within. It is nothing but a heavily graffiti'd shell, overgrown and seemingly heading silently and sadly into total collapse. I made a few exposures of the house which stands lost behind heavy foliage and with huge piles of waste from the quarries behind.
I was however somewhat confused and struggled to distinguish between what was once a mansion and its grounds with that of the ever encroaching mine workings. Long driveways lead away from the house with high stone walls, one of these at the rear of the house appeared to be now a stream, an outlet from the mining days or had the driveway become a causality from the recent heavy rain. A strange bridge that led nowhere spans this stream and beyond that a small array of walled enclosures.
Down below the washrooms (once stables and kennels?) another such driveway led to a further collection of buildings – built haphazardly upon one another with a narrow passageway leading upstairs and around a corner and into a room without a doorway. Further along again, next to some rendered stone pillars, a small gothic looking chapel or folly (?) sits low and dark in amongst the deep rotting leaves with the canopy of large oaks, beeches and chestnuts all but blocking out the light.
The driveway wends out to another two stone pillars and a very large lodge house. I would estimate larger than Talysarn Hall itself, with large rear extensions. Dampness clung to everything. Although this house with its confusing and abundant collection of outbuildings appear, judging by the litter and graffiti, to be visited often by bored kids and vandals, there is much to appreciate here and there is an atmosphere of rural abandonment and loss.
My visit at 9am was undisturbed. The greyness of the hills were broken with greenery and recreational pathways now thread though the workings often revealing ruined buildings and big pits in the ground, now lakes, that hint and sometimes loudly announce that this was once a large mine workings. These dangerous pools are a favourite haunt of many divers. Leaving Talysarn Hall I saw the large cracks in the walls of the castellated stable entrance and I was reminded that this house and its many buildings are on borrowed time.
Even the extensive mine workings at Nantlle, once a barren, industrialized large mine now feels like parkland with footpaths wending in and out of the quarries, lakes and slag piles. Footpaths that were once roads and railway lines (bringing the men into the hillsides and the waste and precious copper ore out) are now used by mountain bikers, dog walkers and hikers.
I spent three hours at Talysarn. After three hours under dark canopy and the damp heavy leaves composting underfoot it was a relief to get back into the open air and brightness of the day. I left Talysarn excited but also mystified. For me the house and location was sublime. It felt like it has had a varied and interesting history (although only built in Victorian(?) times – I've found very little information on the house so if anyone knows please do get in touch. I believe it was also known as Plas Dorothea). I could not truly find my bearings with the layout of the outbuildings; I can only imagine they were heavily transformed from domestic service quarters and stables to industrial uses, showers and administration buildings. Yet one can still imagine this estate to be, once more, a substantial and beautiful country house.
Chapel(?) at Talysarn Hall 2009
Comments
By Tim Albins:
Your interpretation has helped. I was their looking for a village house named Ronen, and had not considered that the hall you described was such... I was switched into 'these are grand quarry buildings and the tiled room was a communal workers shower... I'm now thinking on another tangent. Thanks Tim
By Ceri:
I know that the hall was the home of John Robinson. In 1888 my great great great grandmother passed away at the hall whilst visiting. two years later my great great aunt Josephine became John Robinsons second wife. Four of Johns children predeceased him leaving only Thomas and Eliza as his immediate descendents (he also had grandchildren who he provided for in his will). Upon Johns death in 1900, Thomas inherited the property and his fathers shares in the Quarry, however, five years later Thomas passed away meaning that the estate was hit with huge tax bills in a very short space of time. Thomas's eldest daughter Dorothy was contracted to marry John Heathcote Addie at the time of her fathers decease and became one of several trustees responsible for the estate (which was later sold)
By Bea:
John Robinson of Talysarn Hall was my great,great,grandfather.
By michael duffy:
John Robinson b 1785, d 1850, was great great great great grandfather of Joe Duffy who is doing a school project on family tree. His grandma is Sue Wasson (nee Robinson)