BOVERTON PLACE, Boverton, Nr Llantwit Major, Glamorgan 2009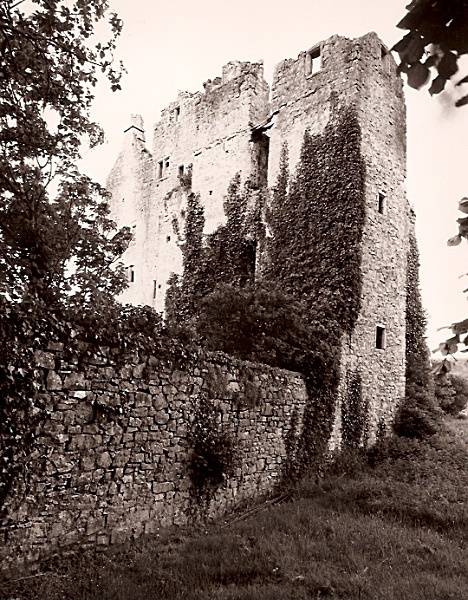 Notes on BOVERTON PLACE, Boverton, Nr Llantwit Major, Glamorgan 2009
After camping at Llantwit Major, oddly enough at the site of a once ruined mansion, The Ham (demolished 1970), I rose at 4:30am, just before sunrise and walked between school playing fields and housing estates, down narrow twittens and alongside a babbling brook to the ruins of Boverton Place. By the time I'd walked up to its bare high walls my trousers were sodden from the foot to the thigh with the early morning dew. The sun peeked along the tips of the few remaining chimneys.
Inside, the walls have patches of plaster but otherwise it is nothing but a very large empty shell with saplings and larger trees filling the remnants of rooms. Birds deftly weave in and out of the tiny windows, hollow doorways and gaps in the walls. The cellars are exposed and kneeling at the opening they appear lowly and uninviting. I decline the invitation. What would I find if I ventured down? Long lost treasures or rusty beer cans?
Stone steps lead up and around corners and stop dead, opening out to steep drops. Looking up towards the tower the underside of stone staircases can be seen wending themselves up the high narrow tower.
I was reminded whilst exploring Boverton Place of the fate of so many ruins, large and small. Pembrey Court was in a equal state of disrepair when I visited in 1997. Very few traces, other than its size, offer any clues on the greatness of such properties (and families). At most a few stone mullion windows may survive or even, as seen at Ruperra and until recently at Aberpergwm, great doorways; wooden with exquisite shape and feature. But other than these obvious signs (and to my untrained eye) often a property is nothing more than a few high stone walls.
Previous and past owners often ransacked the finer architectural details – Boverton for example was supposed to be mostly covered in wooden panelling. Yet if an owner is unable to afford the upkeep of a large house, or even afford the maintenance and prevention of decay by the elements, natural or human, who can argue if the house is left to decay? Many properties can also be on the open market for years without much interest or any chance catching the eye of a sympathetic buyer. The longer a house is left empty it stands to reason the shorter the risk of dereliction.
Perhaps in their eyes the only salvation of a property was to remove the fixtures and fittings so that they may be used elsewhere, day in, day out, rather than watch them dampen, crack, be stolen, vandalised, rot or any other of the numerous ways the belongings of house may be lost.
There was an outcry at Nanteos (near Aberystwyth) when an owner removed many of the fixtures. What would have happened if the house had become ever more derelict, leading to the inevitable; water entering the building and ruining the fixtures and fitting anyway? It would have been considered scandalous if all the fixtures and fittings at Hafodunos were stolen 10 years ago but since most of it was lost in a fire which becomes the lesser of two evils?
I am, of course, not advocating the finer architectural details be removed from houses at risk. I thoroughly believe a house should retain as much of its orginal contents as possible. I do however believe it is worth considering why some families do remove such fixtures and fittings. Of course, it must also be said that many properties are stripped purely for profit and for an owners personal financial benefit.
Anyway, once Boverton Place, the house and grounds had been photographed as sympathetically as I can I am on my way again.
Whilst visiting a house I often attempt to ignore the 'romantic' and traditional compositions but sometimes the urge and sheer beauty of a property is too overpowering and I am powerless to resist the wind-swept trees blowing around and about a house. The walls inside a house can also hint and reveal something about a property, its owners and their tastes – a small mustard coloured room at Great Frampton or the rich crimsons at Gwrych Castle, hushed greens at Neuadd Fawr – all small clues that help the onlooker form a mental picture of how these now decrepit rooms may have once appeared.
Boverton Place 2009
| | |
| --- | --- |
| | |