MALPAS COURT, Newport, Gwent 2005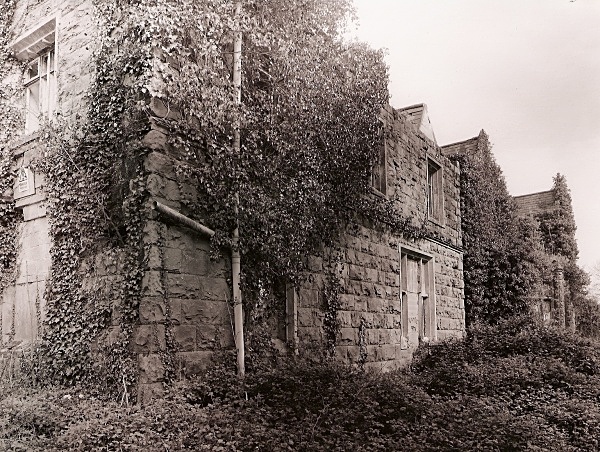 Notes on MALPAS COURT, Newport, Gwent 2005
Malpas Court stands foreboding on the edge of suburban Newport and although surrounded by a secure high wire fence, it only takes a few minutes to find an obliging hole offering access to the walls of the house.
Malpas Court as viewed from the road, with its high chimneys, rugged sandstone and occasional dressed bath stone, looks an impenetrable fortress but once inside the fence the planks covering the windows are little defence to the determined intruder.
Built in the 1830s it seems lost and out of place in its modern urban location, like some haunted mansion that only a few brave souls dare to go near.
The builder, a Thomas Prothero, of mean character (according to legend), reputedly offered a sum of £500 to help build Malpas church on the condition it would be built closer to his home. On hearing his request refused he then halved his proposed sum to £250. A notorious and a much reviled man and with some kind of karmic fortune and irony considering the owners mean spirited past, his house was used in the 1970s and 80s as a community centre.
Malpas Court is currently under restoration by the local council, it's use yet to be agreed.
Malpas Court 2005
| | |
| --- | --- |
| | |
Comments
By Alan Downing:
Hi Paul, Thomas Prothero of Malpas Court had a son Edward who lived near me in Hooton Roberts. Would it be possible to have copies of your photographs? It would only be for me own used and, possibly, the local history society.