Y SIARPAL, Llanthony, Monmouthshire 2005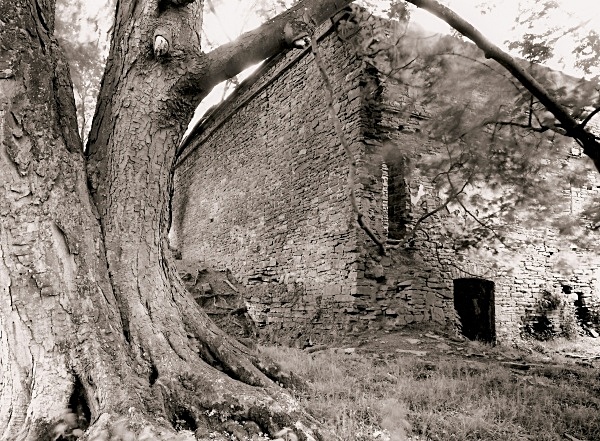 Notes on Y SIARPAL, Llanthony, Monmouthshire 2005
I perhaps most identified with Y Siarpal/The Sharple more so than with any other building. Perhaps the inspiring landscape from Abergavenny through the vale of Ewyas up to Llanthony Priory influences this thought, but I do not necessarily know what it is about Y Siarpal that appealed.
A short walk up to the hills overlooking the Priory revealed, amidst the lightly wooded hills, the sparse walls of a former, supposedly uncompleted, mansion house.
Work began on the house 1808 by Walter Savage Landor, but it was an ill-fated project by the poet and author, who had grandiose ambitions of renovating the ruins of the Priory. He beat the prospective vandals at their game by removing some of the walls, stone by stone, numbering them one by one, but never managed to rebuild all he took down.
His house too, Y Siarpal, was never properly finished nor lived in, indeed he said of it 'never was anything half so ugly'. Neither was he a fan of the Welsh yet of all his complaints it was his English tenants who used the stone carvings he collected from around the world to build roads.
There is evidence Landor did live in his house but if so it could not have been for long for records show it was dismantled and in 1813 the unhappy Landor left the valley never to return.
A constant drizzle and a herd of curious cows accompanied me during my visit. I was expecting very little to remain of the house and had also wondered if indeed I would find any trace. I was in for a happy, albeit modest, surprise. The small collection of walls, corners, chimneys and a square block service wing with ground floor cellars all stood, as many a stone ruins do: content in their unoccupied manner.
And it is perhaps this that offers the answer to my strange allure. Y Siarpal reminded me of the many ruined cottages and shepherd dwellings I have visited around my home near Cwmstwyth. Once someone lived there, in colour(!), as we do now. And to an outsider, as I am, nothing remains of that life but a small pile of stone – now almost finished serving its unnatural life as a stone in a wall to be returned to the ground from where it came.
Y Siarpal 2005
| | |
| --- | --- |
| | |