GREAT FRAMPTON, Llantwit Major, South Glamorgan 2005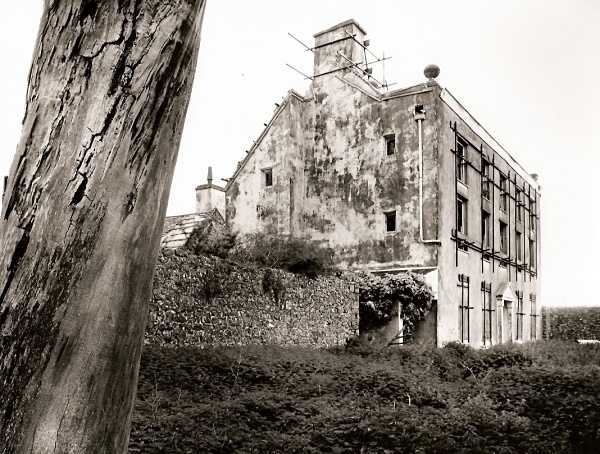 Notes on GREAT FRAMPTON, Llantwit Major, South Glamorgan 2005
Gutted by fire though not neglect, in the late 1990's, Great Frampton remains a hollow shell supported with scaffolding.
The famous astronomer, Nathaniel Pigott, stayed at Frampton during the 1770's and erected an observatory. The name Framptonis thought to have evolved from Francton an English knight, Adam De Francton, who killed Llewelyn, the last Prince of Wales.
Great Frampton, set in a wild park, also encompasses a walled garden. The large adjoining service wings are also ruined however.
I arrived at about 5am after a two and a half hour drive. An early start allows me to, at least attempt, visit as many properties in a day before the light fades or my eyes begin to flicker and flirt with a downward immobility.
As I pulled up alongside the house a farmer pulled away in the opposite direction, uninterested in me parking in front of his barns. The morning dew soddened my shoes almost immediately whilst I wandered around the grounds, seeking viewpoints and setting up my camera. Everywhere seemed still and the ground was carpeted with tiny cobwebs and a few birds few from eaves to tree. It was a serene scene and after the long drive a pleasant beginning to the day. This view of the weathered tree trunk sits comfortably with the textures of the dirty side wall.
Great Frampton 2009
| | |
| --- | --- |
| | |
Comments
By Lynn Kapp:
I believe my great grandfather(Thomas Osborn) was born in this place. His mother worked here. Its the first picture and info I have ever seen of it. Thank you for the picture. I would love to know more info on the people who worked here. Is there a listing or amything that could help?
By ceri Hillier:
While doing FH I came across a Mary Jones who is said to have been born in this house in the 1700s. My Gu (Grandfather) also insisted there was a connection with the house. He came from Sigginstone / Llanmaes. I too have pics of this property taken c2008
By Rosie:
I used to hang about in this house when i was a teenager. all the people i was friends with used to go here! was very creepy and at night their were a lot of strange sounds.. i've always been facinated by the place and have spent many hours looking into its history!
By Dawn Lewis:
My mother in law lived here from the 70's until her death in 1989. The most interesting thing about the house was a staircase in the front right corner of the house that went from the ground floor to the top floor, built so swordsmen could descend sword in hand.
By Jordan Clapham:
I'm a 19 year old creative media student from Bridgend college and I spent 2 full days in May 2013 here filming a short horror/thriller film and I have to say... what a fantastic place it is indeed! I was fascinated with it soon as I saw it. I took a few stills while in between takes so feel free to view them on my Instagram profile @Clapham1994
By bunty:
more please
By roger jones:
my mother Phyllis worked for mrs lewis till she died ;she loved working for here in porthcerry then in framton ,shese now 92 and loves the good memories
By Louise Carter (nee Board):
My Grandfather (Morgan Board) farmed from Frampton for many years prior to his retirement in the late 60s/early 70s and my Father (Donald Board) grew up there. It would be good to see it restored - just wish I could afford to do it myself!!!
By Jim (James):
I visited Great Frampton at Xmas 2014 - My Great-Grandfather was Morgan Board (hi Louise!) and he bred Aberdeen Angus cattle (The Great Frampton Herd) from (I think), the 1930's. I believe he was the only man to win The Smithfield Cup eight times. Like Louise I would love to see it restored - I'd heard it had been bought, so id be really pleased if anyone had any more info!
By Richard:
It has indeed been sold, if you type the name into Google you will find the rightmove listing, £650k. The developers plans are on the Vale Of Glamorgan Council planning consent website. I would love to see pictures of this lovely house before the fire, walk past it most days walking my dogs.
By Dot Jones:
In 1841 my ancestors Richard and Frances Price and their 6 children lived on this property. Richard was a farmer who then employed 3 agricultural labourers and 2 house servants - I hope the people who have bought it are restoring it
By peter:
allways used to take our air rifles to this place , was able to sit upstairs and shoot birds through the window all day
By Andrew Roberts:
Update for Nov 2017. This building is now being restored by a local builder.