GWYLFA HIRAETHOG, Denbigh Moors, Denbighshire 1997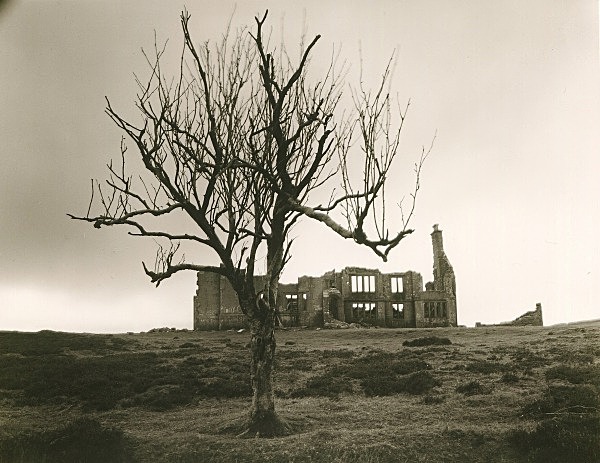 Notes on GWYLFA HIRAETHOG, Denbigh Moors, Denbighshire 1997
Abandoned in the 1950's, dramatic and openly isolated high on Denbigh Moors, Gwylfa Hiraethog can be spied whilst driving passed the Sportmans' Arms Inn.
The walk up to Gwylfa Hiraethog isn't a particularly long one but greets as it does a bleak and barren setting as ever I have come across. Approaching the house you begin to have some realisation of the reality of living in such a location. The November afternoon I visited, the wind blew hard and cold and I expect the wind has blown hard and cold every day and night since.
There were limited photographic possibilities other than the vandalized, sorrowful pile of rubble but there was also a small solitary tree – wind swept, short and twisted: the type a carpenter passes without kind acknowledgement. I read recently that even this windswept tree has fallen along with much of what you can see of the house in these images.
Gwylfa Hiraethog is said to have been the highest inhabited house in Wales and to have the widest views of any other house in Britain.
The former war Prime Minister Lloyd George addressed a large crowd here from the balcony just after it was built (1908 –11). It is easy to imagine this scene and presume Lloyd George had a voice equal or as great as the winds that blow across the moors.
A mobile phone mast now sits most un-appropriately beside the rendered stone walls. One has to smile.
Gwyfla Hiraethog 1997
Gwyfla Hiraethog 1997
Gwyfla Hiraethog 1997
Gwyfla Hiraethog 1997
Gwyfla Hiraethog 1997
Gwyfla Hiraethog 1997
Gwyfla Hiraethog 1997
| | |
| --- | --- |
| | |