HAFODUNOS, Llangernwy, Denbighshire 2011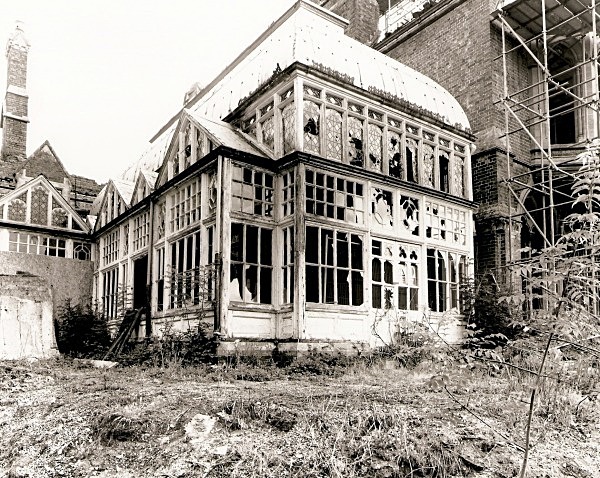 Notes on HAFODUNOS, Llangernwy, Denbighshire 2011

Recently purchased, fenced off. The walls of Hafodunos veiled with scaffolding. A new chapter thus thankfully begins. The ongoing thought was that this house should never have found itself in this state. The arsonist who set fire to this great house in the fall of October 2004 was caught and imprisoned. Perhaps a more fitting punishment would have been for him to help with the consolidation of this property; emptying these high walls from their fallen masonry; the bricks, stone and ornate plaster.

The high walls have now been emptied from this litter, albeit precious litter since Hafodunos is grade 1 listed.

My trip, as ever, was a brief one. In 2005 I had taken a number of images of this forlorn and overgrown ruin. I did not do it justice. And once again I feel some kind of disappointment with the finished prints.

The grounds and gardens are also in the process of restoration and it would be incredible to see all this restored. But still that nagging thought; that this house should never have found itself in this poor and shallowed state.
| | |
| --- | --- |
| | |
Comments
By phi:
Your photo's are truly fantastic. I have meaning to visit Hafodunos for a long time and hopefully I will soon. It seems such a shame that such a beautiful building has been left to ruin.
By Howard Kingsbury:
In future instances, the Local Authority should be empowered to appoint a family as caretakers until Planning & Legal Issues are satisfactorily resolved.