PENCOED CASTLE, Llanmartin, Gwent 2009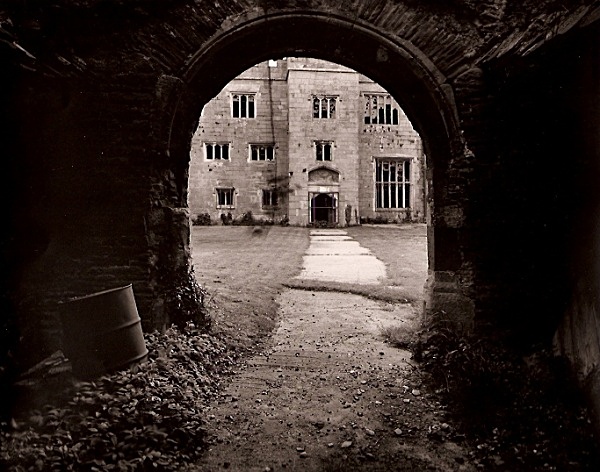 Notes on PENCOED CASTLE, Llanmartin, Gwent 2009
After visiting Ruperra Castle, a short journey down the M4 to Llanmartin and to the ruins of Pencoed Castle. I had heard it had been re-sold in 2006 and wondered if any progress had been made on its consolidation and restoration. Sadly not.
From memory, my first visit in 1997, very little seemed to have changed at Pencoed Castle. Caravans and other farm machinery no longer littered the front lawn but other than that, it remained, seemingly, ever resilient to time and decay. Of course no building can remain solid without the due care and maintenance. Peering through the windows one could see the make-shift wooden scaffolding; beams holding lintels, timbers holding beams. One such covered metal frame was loose. I entered without effort or force and walked the great halls and dusty stone staircases. Stone fireplaces stood without heat and scaffolding kept the floors above barely intact.
That said, 12 years after my first visit, Pencoed seems to be in an astonishing condition (to my untrained eye) since it has been left empty since the 1950/60's(?).
These days the only occupants of Pencoed Castle are the birds – rooks tending attentively to their demanding young and making such a racket in comparison to the gentle and soft coo-ing of the pigeons. The birds weave in and out of the windows – nearly all smashed and the metal frames twisted – inside stone steps lead up to floorless rooms, dusty but seemingly dry. On the first floor long planks lead from doorway to doorway, the second floor padlocked. Although padlocked, I did not feel the need to venture further. Pencoed, long yet slim, remains a mysterious place – barren within and without, one feels the house has had a long and varied history. Twelve years since my first visit, Pencoed still felt ancient and any ideals of modernization would feel wrong and building against the spiritual grain. Perhaps some houses are better left simply as they are; empty, dry and content.
The gatehouse, surrounding walls, barns and dovecote all crumble, slowly without human interference or indeed need, in ruin.
Walkng toward Pencoed Castle 2009
Pencoed Castle 2009
Pencoed Castle 2009
Pencoed Castle 2009
Pencoed Interior 2009
Pencoed Interior 2009
Pencoed Interior 2009
Pencoed Interior 2009
Pencoed Interior 2009
Pencoed Interior 2009
Pencoed Interior 2009
Pencoed Interior 2009
Pencoed Interior 2009
| | |
| --- | --- |
| | |
Comments
By David:
Paul would it be possible to arrange a visit to Pencoed Castle thru yourself as one of my distant ancestors an Elizabeth Judde was married to Sir William Morgan in the 16th century, many thanks, David
By karen harris:
who owns pencoed castle now does anyone know regards
By Nola Jean Parks:
I am proud of my Morgan heritage. These pictures and commentary are both stirring to the heart and so sad also. What a magnificent building. I wish I could visit.
By Linda:
Thank you for sharing these photos. I am also of Morgan heritage through the Boone family. I hope to visit Wales and Scotland one day.
By ed kaczmarczyk:
Born in Pencoed, Mid Glam in 1955. Worked for some years part time for Stephen Weeks at Penhow as carpenter.Loved it! Was tickled when I heard there was another outpost castle to Chepstow and it was called Pencoed! please let me visit again and photograph this Decaying Splendour. please contact me via above Email,--EdK