MOUNT GERNOS, Maesllyn, Ceredigion 2009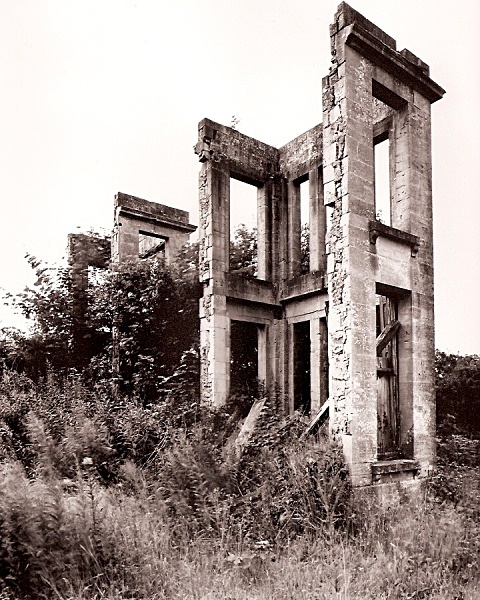 Notes on MOUNT GERNOS, Maesllyn, Ceredigion 2009
Only a mile or two away from the ruins of Bronwydd is another large house, all but vanished, Mount Gernos. I had visited it in 1998 but did not consider it worthy of photographing - something i would have regretted if, on this summers morning in 2009, i would have found those two towers had also been demolished since then.
A couple of exposures were made – although I only had two sheets of film remaining - but so little remains of Mount Gernos (a great photograph can be seen in Tom Lloyd's 'Lost Houses of Wales') that I did not need any more film. All that does remain are two bath stone windows, two storeys high in a field, beside Gernos farm and the patchwork of barns, outbuildings and new bungalows. One wonders when the rest of the house was demolished why this pair of windows were left. They make both a sad and proud monument but surely it would have been much simplier to demolish the whole house.
Mount Gernos 2009
| | |
| --- | --- |
| | |
Comments
By Hazel:
As a child my friends owned Gernos and farmed there. The mansion was in ruins and we used to play in it, even though we were not really allowed to do so. I remember the stair case and mouldings
By John H. Tyler:
Greetings: I am interested in finding out the history of the TYLER family in Mt. Gernos. My surname will tell you that I've studied the genealogy of the family, but i never ran across the family having been in Mt. Gernos Please inform.