FACTORY FAÇADE, Nottingham 1998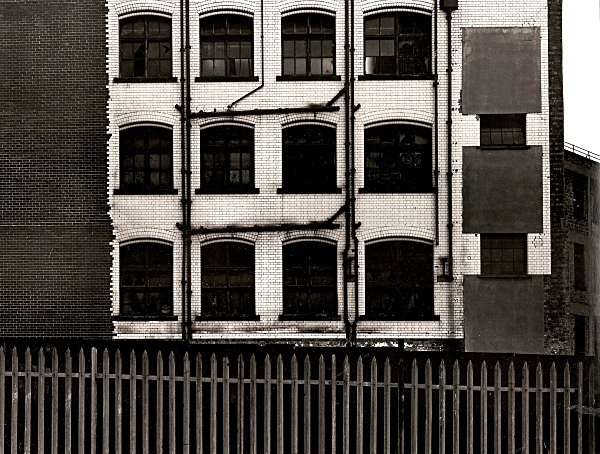 Notes on Factory Façade, Nottingham 1998

Between 1995 – 1998 I lived in Nottingham. I went to university to study photography and although I spent very little time at university (I found it too large, too impersonal compared to the collage in Carmarthen where I studied for my HND) I did spend a good deal of time wandering around search primarily for abstractions. This took me to the more deprived areas of the city and it was there, in an area called Radford, that this image was taken.

I had cycled out to Radford to take a particular photograph of an abstraction in a wall and was making my way home, cycling down streets I hadn't ventured down before to maximise the chance of finding more abstractions when I came across this factory. As ridiculous as it sounds whilst I'm out with a certain subject matter focussed in my mind I find it almost impossible to step out of that train of thought and photograph a different subject matter. I usually return at a later date. I came to this building, made a mental note of where it was and then cycled on. The rear of the factory was very quiet with no people or cars. I turned around and then made this exposure. I am generally not a spontaneous photographer but this was too good of a composition to risk. Who knows the factory could have been re-opened or demolished next week.

This was also taken at a time when I only owned and used one lens with my camera but I did also have a roll film back which when used converted the lens from a 90mm wide angle to approximately a 150mm standard lens. It was with this roll film back I used which allowed me to tighten the angle of the building. This image works very well for me and other than a handful of abstractions taken in this three years period is the most important image I took whilst living in Nottingham. It is a simple image with blocks of information framing and flattening the perspective. The camera was placed full height on the tripod, the fence in the foreground was at least six foot high and it took considerable adjustment of the lens and film plain to correct any perspective disfiguration. Although I felt somewhat hurried (I have never felt completely comfortable photographing in towns and cities, my concentration can become easily punctured with people enquiring about either the camera or why I am photographing a wall(!), this image was, apart from the technical issues, very easy to compose on the ground glass and remains one of my better pictures.
| | |
| --- | --- |
| | |